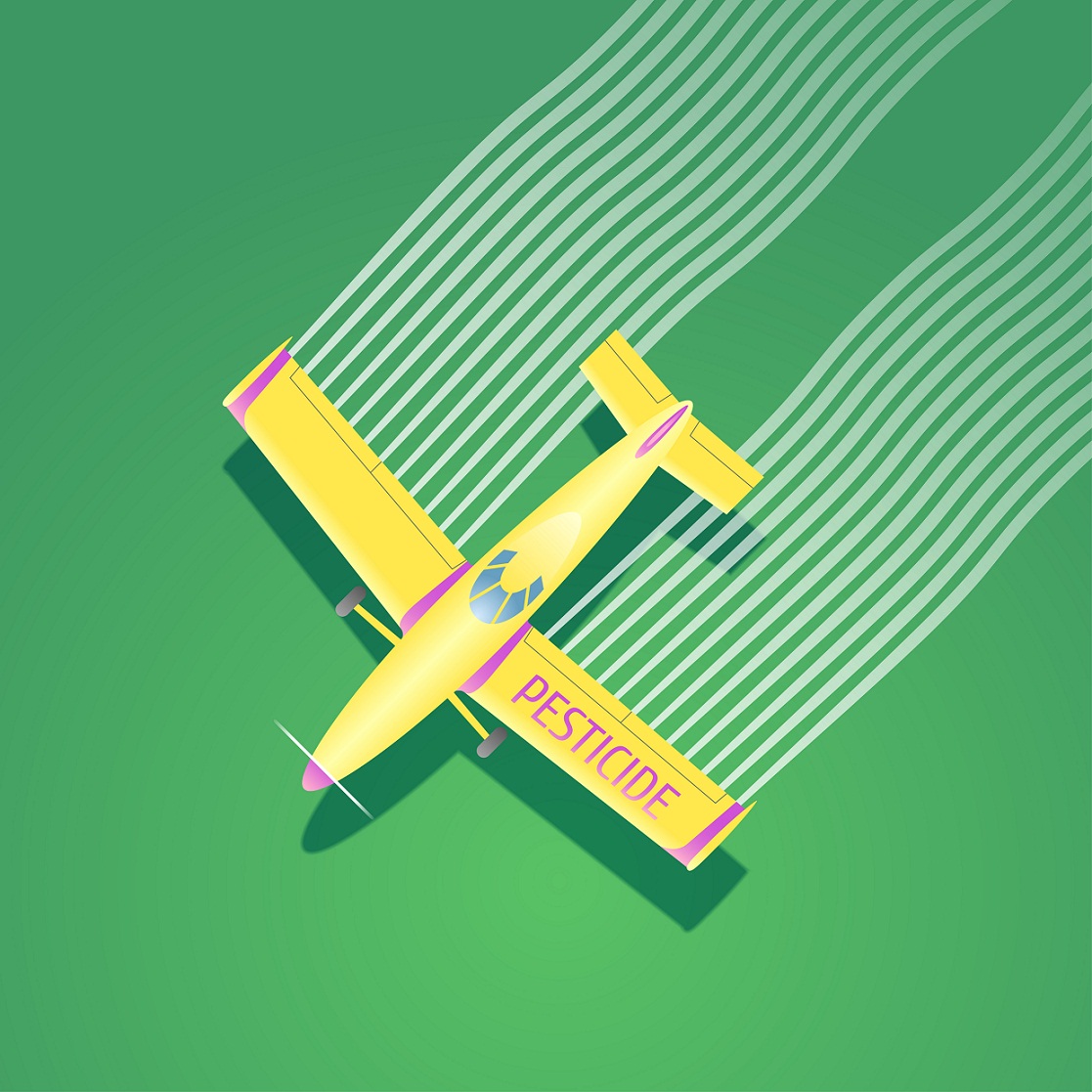 The Miami-Dade County Public Works and Waste Management Department began aerial spraying of the pesticide Naled over Miami, FL on Aug. 4, 2016.1 The spraying campaign, focused on the city's Wynwood area, is targeting the Aedes aegypti mosquito which has been known to carry the Zika virus. Naled is sold under the brand name Dibrom,2 3 and is an organophosphate chemical produced by AMVAC Chemical Corporation of Axis, AL.
Naled is the same pesticide that, in June, the U.S. Centers for Disease Control and Prevention (CDC) recommended spraying in Puerto Rico to fight the spread of Zika virus infections there.4 5 However, following public protests by Puerto Ricans against the proposed pesticide spraying campaign, a lawsuit was filed on July 21 against the CDC and its director, Tom Frieden, in San Juan, Puerto Rico by that city's Mayor Carmen Yulin Cruz-Soto and the San Juan Municipality. That lawsuit and opposition to the spraying by Puerto Rico's Governor Alejandro Garcia Padilla prompted the CDC to back down on the use of Naled on the island.5 6 7 
CDC respects the decision of the Governor of Puerto Rico to not pursue aerial spraying with the insecticide Naled. We moved too quickly in our urgency to do all that we could to be responsive and prepared in the event officials in Puerto Rico decided to use Naled. Under no circumstances would CDC undertake application of Naled unless the government of Puerto Rico decided to do so, authorized it, and requested CDC to do so.7 
According to the lawsuit, the objections to Naled are based on:
multiple studies that demonstrate that exposure to Naled can cause respiratory complications, nausea, headaches, skin irritation, damage to the nervous systems, among other complications. In essence, Naled and other toxic pesticides that the defendant proposed to use (hereinafter the "proposed action") represent a serious risk to the general health of the People of San Juan and a danger to the environment…8 
The lawsuit goes into detail about the harmful effects of Naled to humans, as well as birds, fish, bees, and wildlife. It states that the CDC and other defendants named in the action have failed to carry out any "tests, methodological studies to determine and mitigate the long term harm" and that the "waters, human and wildlife will suffer if Naled is indiscriminately used as pretended by the CDC and the other defendants."
The lawsuit also states that the CDC has not provided the Environmental Impact Statement (EIS) as required by the National Environmental Policy Act (NEPA) nor a biological assessment as required by the Endangered Species Act (ESA).8 
As an alternative to Naled, the CDC plans to distribute another insecticide in Puerto Rico called Bacillus thuringiensis israelensis (Bti). According to the National Pesticide Information Center (NPIC), "Bti is low in toxicity to people and other mammals." With regard to birds and fish, Bti has been found to be "practically non-toxic and non-pathogenic."9 Bti was one of two pesticides sprayed over New York City in May to control mosquitoes believed to carry the Zika virus.9
Meanwhile, the aerial spraying of Naled over Miami—reminiscent of the pesticide DDT aerial spraying campaigns over U.S. cities during the 1940s10 —has proceeded, and Miami-Dade County officials are reportedly now in talks with the CDC about the possibility of expanding the program.11 
While the CDC and U.S. Environmental Protection Agency (EPA) have offered assurances that Naled is safe, some people are skeptical. A Miami Herald article quoted attorney Dennis Olle, who is a board member of the Miami chapter of the North American Butterfly Association, as saying, "I don't care what the CDC says. It's bad stuff."12 
Naled was banned in the European Union (EU) in 2005 because it was found to pose an "unacceptable risk."12 13 14 Specifically there is some concern about the effect Naled could have on pregnant women. In a recent article in the Miami New Times, Jerry Iannelli writes:
In a dark twist, some studies have even shown that the family of chemicals naled belongs to can harm a growing fetus — which means the county could be harming the very same pregnant residents it's trying to protect.13 
That would be a tragic irony indeed.
---
References:
1 Alvarez, L. Spraying Begins in Miami to Combat the Zika Virus. The New York Times Aug. 4, 2016.
2 Amvac Chemical Corporation. Dibrom® Concentrate. Amvac-Chemical.com.
3 Wikipedia. Naled. Wikipedia.org.
4 Associated Press. US urges aerial spraying amid jump in Puerto Rico Zika cases. The Washington Post July 6, 2016.
5 Vargas AS. The US Govt Is Bringing a Controversial Pesticide to PR's Battle Against Zika & Boricuas Are Pissed. Remezcla July 2016.
6 CDC Pesticide Spraying Illegal, says Lawsuit. Matthews & Associates.
7 Silverman E. CDC backs down on proposal to use controversial insecticide to thwart Zika. STAT July 25, 2016.
8 The Municipality of San Juan and Honorable Carmen Yulin Cruz-Soto in Her Official Capacity as Mayor of San Juan v. The Center for Disease Control and Prevention; Tom Frieden in His Official Capacity as Director of the CDC; the Commonwealth of Puerto Rico; Governor of Puerto Rico, Honorable Alejandro García-Padilla, Secretary of the Department of Agriculture Honorable Myrna Comas; Health Department Secretary Honorable Ana Rius-Almendariz; Corporation A, B, C, John Doe, Jane Doe. Case 3:16-cv-02382-CCC Document 1 Filed July 21, 2016 in the United States District Court for the District of Puerto Rico p. 1 of 14
9 Cáceres M. New York Aerial Sprays Altosid and VectoBac Pesticides to Combat Zika. The Vaccine Reaction May 23, 2016.
10 Cáceres M. DDT and the Rise and Fall of Polio. The Vaccine Reaction July 22, 2015.
11 Staletovich  J. Air Attack against Zika hit and miss in Miami, CDC reports. Miami Herald Aug. 15, 2016.
12 Staletovich  J. Friday flight planned to spray for Zika mosquitoes. Miami Herald Aug. 11, 2016.
13 Iannelli J. Pesticide Sprayed Over Wynwood Is Banned in Europe, May Also Harm Fetuses. Miami New Times Aug. 10, 2016.
14 European Union. COMMISSION DECISION of 11 May 2012 concerning the non-inclusion of naled for product type 18 in Annex I, IA or IB to Directive 98/8/EC of the European Parliament and of the Council concerning the placing of biocidal products on the market. EURO-Lex.