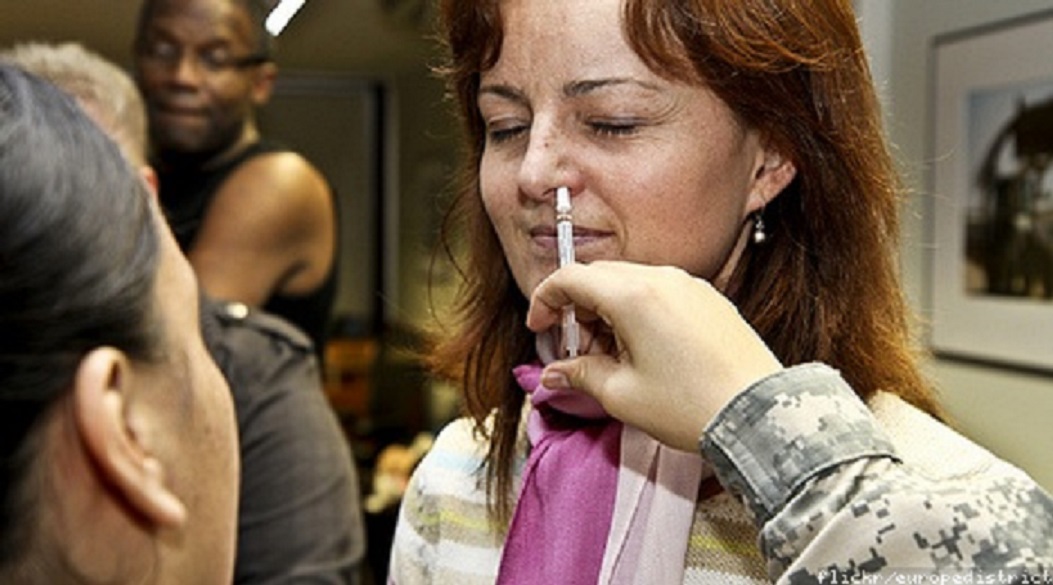 The U.S. Centers for Disease Control and Prevention's (CDC) Advisory Committee on Immunization Practices (ACIP) on June 22, 2016 recommended against using the live nasal spray version of the influenza vaccine known as FluMist during the 2016-2017 influenza season. After reviewing data for 2013-2016, the committee found that the "FluMist Quadrivalent" live attenuated influenza vaccine (LAIV), produced by AstraZeneca plc subsidiary MedImmune, LLC of Gaithersburg, MD, was only three percent effective in protecting children two to 17 years of age against the flu.1
The three percent figure is so low that, for all practical purposes, the vaccine provided no protection, or at least that "no protective benefit could be measured." The reason for the "poor performance" of FluMist is "not known."1
According to the CDC:
Vaccine manufacturers had projected that as many as 171 million to 176 million doses of flu vaccine, in all forms, would be available for the United States during the 2016-2017 season.
In a press release issued on June 23, AstraZenaca acknowledged the ACIP decision, but also cited its own studies, along with "preliminary independent findings by public health authorities in other countries," demonstrating a 46-58% overall effectiveness for FluMist against "circulating influenza strains" in 2015-2016.2
FluMist was developed by MedImmune  and first licensed by the U.S. Food and Drug Administration (FDA) in June 2003 and initially was only approved for healthy individuals between five and 49 years of age. It was approved for expanded use by the FDA in 2007  for children as young as two years old, but "with precautions."3
Information contained in the MedImmune/AstraZeneca product insert contains contraindications and "warnings and precautions" for the following persons:
pregnant women
nursing women
children under 24 months of age
people of any age with asthma
children less than five years of age with recurrent wheezing
people over 65 years old
people with an underlying medical condition that may predispose them to complications following wild-type influenza infection
anyone allergic to any part of the vaccine including eggs, egg proteins, gentamicin, gelatin or arginine
children or adolescents receiving aspirin therapy
people receiving anti-viral drugs
peoplethose with a history of Guillain-Barre syndrome
people with known or suspected immune system problems or who are immune-compromised or are in close contact with an immunocompomised person4
The National Vaccine Information Center (NVIC) further notes that the manufacturer discusses the ability of the live virus FluMist vaccine to cause vaccine strain infection and shedding in the product insert:
Immune mechanisms conferring protection against influenza following receipt of FluMist Quadrivalent vaccine are not fully understood; serum antibodies, mucosal antibodies, and influenza-specific T cells may play a role. FluMist and FluMist Quadrivalent contain live attenuated influenza viruses that must infect and replicate in cells lining the nasopharynx of the recipient to induce immunity. Vaccine viruses capable of infection and replication can be cultured from nasal secretions obtained from vaccine recipients (shedding).5
Additionally, NVIC points out that the manufacturer warns that, "The safety and immunogenicity of FluMist Quadrivalent when administered concomitantly with inactivated vaccines have not been determined."5 FluMist also has not been studied when given simultaneously with live virus MMR and varicella zoster (chickenpox) vaccines.
Ingredients in FluMist Quadrivalent include four live attenuated (weakened) influenza virus strains, including A(H1N1); 786 A(H3N2); B Yamagata lineage; and B Victoria lineage. The viruses are introduced into eggs "where they are allowed to multiply." Monosodium glutamate (MSG), sucrose, potassium phosphate, and gelatin are then added as stabilizers. Also added is the antibiotic Gentamicin and the immunostimulant arginine.4
Despite the CDC advisory committee's recommendation against use of FluMist, the United Kingdom-based AstraZenaca manufacturer of FluMist indicated it plans to continue to distribute and sell the vaccine (known as Fluenz in Europe) outside of the United States.
The distribution and use of the vaccine in other countries are progressing as planned for the forthcoming influenza season, pending the annual release process from relevant regulatory authorities.2
Sales of FluMist in the U.S. in 2015 totaled $206 million, which is equivalent to about one percent of AstraZenaca's overall revenue for the year.6
---
References: