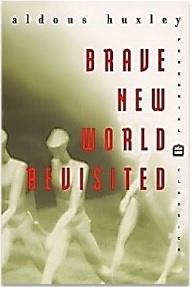 Published in 1932, arguably at the advent of the technological age, Aldous Huxley's Brave New World seems at least as relevant in the 21st century as it was at the time. Long a staple of high school and college literature classes, the story is set in the year 2540 AD—or rather, 632 AF ("After Ford," a nod to the introduction of the Model T car and the technology that has replaced religion in the novel).
Following the trail of events stemming from the interaction between citizens of the dystopian "World Order" and John, the so-called savage visiting from an isolated village, Huxley explores themes such as the right to personal freedom versus the argument for universal dictates "for the common good" of society as a whole.
In the novel, even the suggestion that individuals might have opinions that differ from the carefully shaped norm is considered shameful. Ideas like mother, father and monogamy are pornographic and antisocial concepts, spoken only in whispers and with embarrassment. Technology has been embraced wholeheartedly. Life begins at "The Hatchery," where factory-produced human embryos are manipulated through exposure to a cocktail of chemicals and environmental variables to fulfill their predestined role in society.
Making use of educational and societal mandates, as well as easy access to the government-sanctioned drug Soma, the 10 World Controllers maintain complete command over the citizens of the developed world. To preserve happiness and harmony, all aspects of life are controlled—from the way people think and feel, to the information they are exposed to, how they spend their leisure time and even how and when they die.
Maintaining that stability and happiness are more important than truth in society, Mustapha Mond—one of the ten Controllers—explains to John (aka "The Savage") that a stable society has no place for such potentially disturbing subjects as art, science, or religion. John protests, countering that to sacrifice such pursuits is dehumanizing, and without individual freedoms, life is not worth living.
It is a debate that continues to this day.