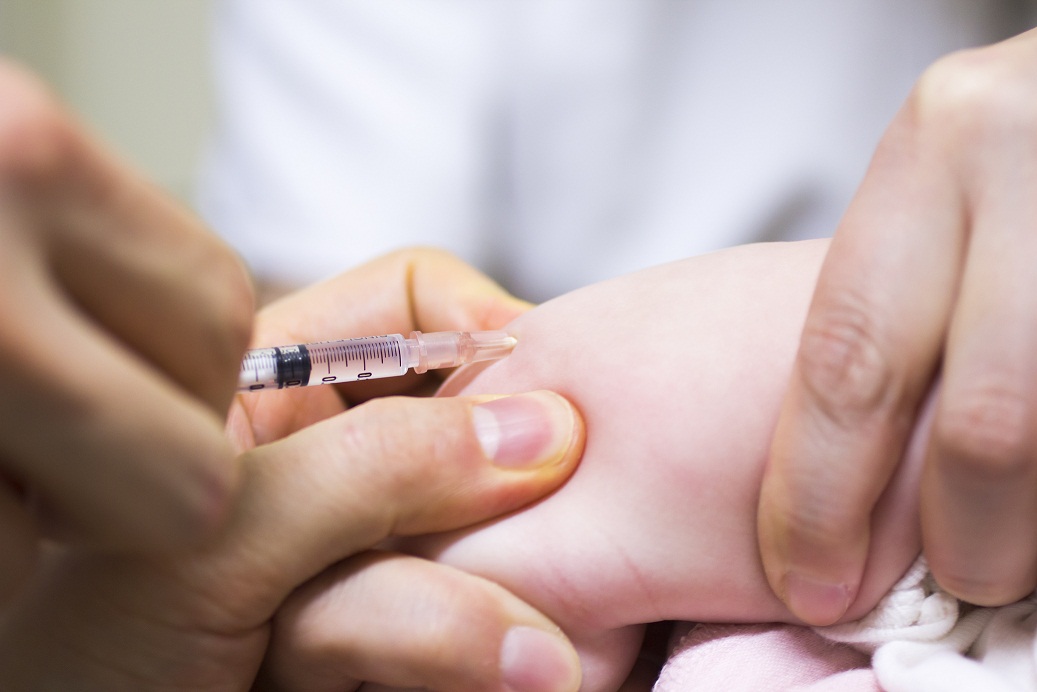 Story Highlights
Babies are born with low levels of vitamin K, which is critical for cell growth regulation and blood clotting.

Low vitamin K levels can lead to uncontrolled bleeding in some newborns and babies up to a few months of age.

Most health professionals agree that supplemental vitamin K at birth is sound practice, but there is disagreement over the supplementation, with some arguing that oral drops may be safe and more effective than injection of synthetic vitamin K.
Essentially all human infants are born with very low blood levels of vitamin K and, since low amounts of vitamin K crosses into breast milk, levels remain low for several weeks after birth in breastfed babies. The purpose of this natural, universal experience of low vitamin K levels in newborns is not known. Has Mother Nature really made a mistake? Or is there a perfectly good reason for it that we just haven't figured out yet?
Mouse and epidemiologic studies indicate that the neonatal "deficiency" of vitamin K, which promotes cell turnover, may actually protect the developing fetus from damaging substances that "escape the primary placental screen."1 Those researchers proposed that this protective effect would be particularly important considering the rapid cell turnover in the developing fetus. In a later study, those same scientists suggested that the tightly controlled production of vitamin K and other growth regulators in embryos and newborns may be critical for normal embryogenesis.2
Those studies were conducted 20 years ago and little scientific research has been reported since. Instead, the medical community continues to focus on the dangers of low vitamin K in newborns and the importance of addressing it. And they are right; the effects of vitamin K deficiency can be devastating.  That is because, in addition to cell growth regulation and other functions, vitamin K plays a vital role in the body's blood clotting ability. Their low levels of vitamin K can put babies at risk for uncontrolled bleeding.
Causes of Low Vitamin K in Infants
Several factors contribute to the low levels of vitamin K in newborns: First, the maternal supply of the vitamin doesn't cross the placental wall easily. Second, the immature liver of the newborn (particularly in premature infants) not only can't store much vitamin K but also doesn't use it well.
Finally, it takes the infant weeks or months to begin colonizing the gut with the bacteria that produce vitamin K.3 It has also been hypothesized that, while most vitamins and nutrients protect the fetus more than the mother in the presence of deficiency, low levels of vitamin K in the newborn infant may protect the mother against excessive bleeding during the birth process.4
Why Low Levels of Vitamin K Matter
Vitamin K deficiency bleeding (VKDB), also referred to as hemorrhagic disease of the newborn (HDN), is categorized by time of occurrence: Early onset (within 24 hours of birth), classic onset (within 24 hours to 7 days after birth), and late onset (2 weeks to 2 months or more). Most babies do not experience blood clotting problems despite their naturally low levels of vitamin K. Early and classic-onset VKDB is seen in between 1 in 60 and 1 in 250 newborns and generally presents as easy bruising or external bleeding, sometimes from the umbilical cord or circumcision site.
Early-onset HDN disease can be severe and is usually linked to the use of anti-seizure or blood-thinning medications by the mother during pregnancy. Late-onset bleeding is rare, occurring in between 1 in 14,000 to 1 in 25,000 infants. Despite its rarity, late-onset VKDB is important to be aware of and diagnose as soon as possible. There are rarely any "warning bleeds." Between 30 and 60 percent of affected babies have bleeding within the brain that can lead to serious brain injury or death.5
Vitamin K Shot Given Routinely at Birth
Erring on the side of the "Mother Nature made a mistake" side, babies are generally given a shot of vitamin K within minutes of birth, though parents are able to opt out as long as they know it is a routine procedure and make their wishes known before the shot is given. That takes some vigilance because a vitamin K shot at birth has been considered the standard of care since 19616 and parents may not even hear about it before it has been administered.
Vitamin K Supplementation Options
Although most medical professionals agree that raising vitamin K levels for newborns and babies up to several months of age is a good idea, there is some difference of opinion on the methods for doing so.
The vitamin K injection is not a vaccine. However it has been the subject of some controversy because, like vaccines, it injects the infant with foreign substances and chemicals that challenge the infant's immature system. The vitamin K shot uses a synthetic form of the vitamin and the dosage given is much higher than the recommended daily dosage for adults, reportedly because the shot is given intramuscularly and so is metabolized slowly over time, theoretically giving  the infant more time to naturally produce vitamin K.7
The manufactured product also includes 9 milligrams (mgs) of benzyl alcohol, which targets the immature liver and may lead to jaundice or, rarely to shock, cardiac or respiratory distress, and seizures.8 9 Finally, in the early 1990s two studies out of the U.K. suggested that there might be a link between the synthetic vitamin K shot and childhood cancers such as leukemia.10 Although health officials report that no further investigations showed a link between vitamin K shots and childhood cancers,11 parents continue to be concerned.
Oral vitamin K is not available as an option in the U.S. but is widely used in other countries including Europe and the U.K. The oral route tends to be slightly less effective than the intramuscular route, most likely because the oral dosage has to be given in three separate doses over the first month of life, and some doses may be forgotten.10
There also is some indication that increasing the mother's intake of vitamin K may supplement the breast-fed baby's low vitamin K levels, but more research is needed to confirm that.7
---
References:
1 Israels LG, Israels ED. Observations on vitamin K deficiency in the fetus and newborn: has nature made a mistake? Semin Thromb Hemost 1995.
2 Israels LG, Israels ED, Saxena SP. The Riddle of Vitamin K1 Deficit in the Newborn. Semin Perinatol February 1997.
3 CDC. Facts about Vitamin K Deficiency Bleeding. Mar. 31, 2014.
4 Lane M. Vitamin K in Breast Milk – Can it replace "the shot"? Nurse & Nourish Dec. 23, 2015.
5 MedLine Plus. Vitamin K Deficiency Bleeding of the Newborn. U.S. National Library of Medicine Nov. 3, 2015.
6 Committee on the Fetus and the Newborn. Controversies Concerning Vitamin K and the Newborn. Pediatrics July 2003.
7 Lane M. Vitamin K in Breast Milk – Can it replace "the shot"? Nurse & Nourish Dec. 23, 2015.
8 Piper-Terry M. How Toxic Are Vitamin K and Hepatitis B Injections? The Vaccine Reaction Mar. 29, 2016.
9 Product insert. Vitamin K Injection: Phytonadione Injectable Emulsion, USP. Hospira 2004.
10 Vitamin K: Injection or Oral Dose for Newborns? NCT.org. 2015.
11 CDC. Frequently Asked Questions (FAQ's): Vitamin K and the Vitamin K Shot Given at Birth. Mar. 31, 2014.