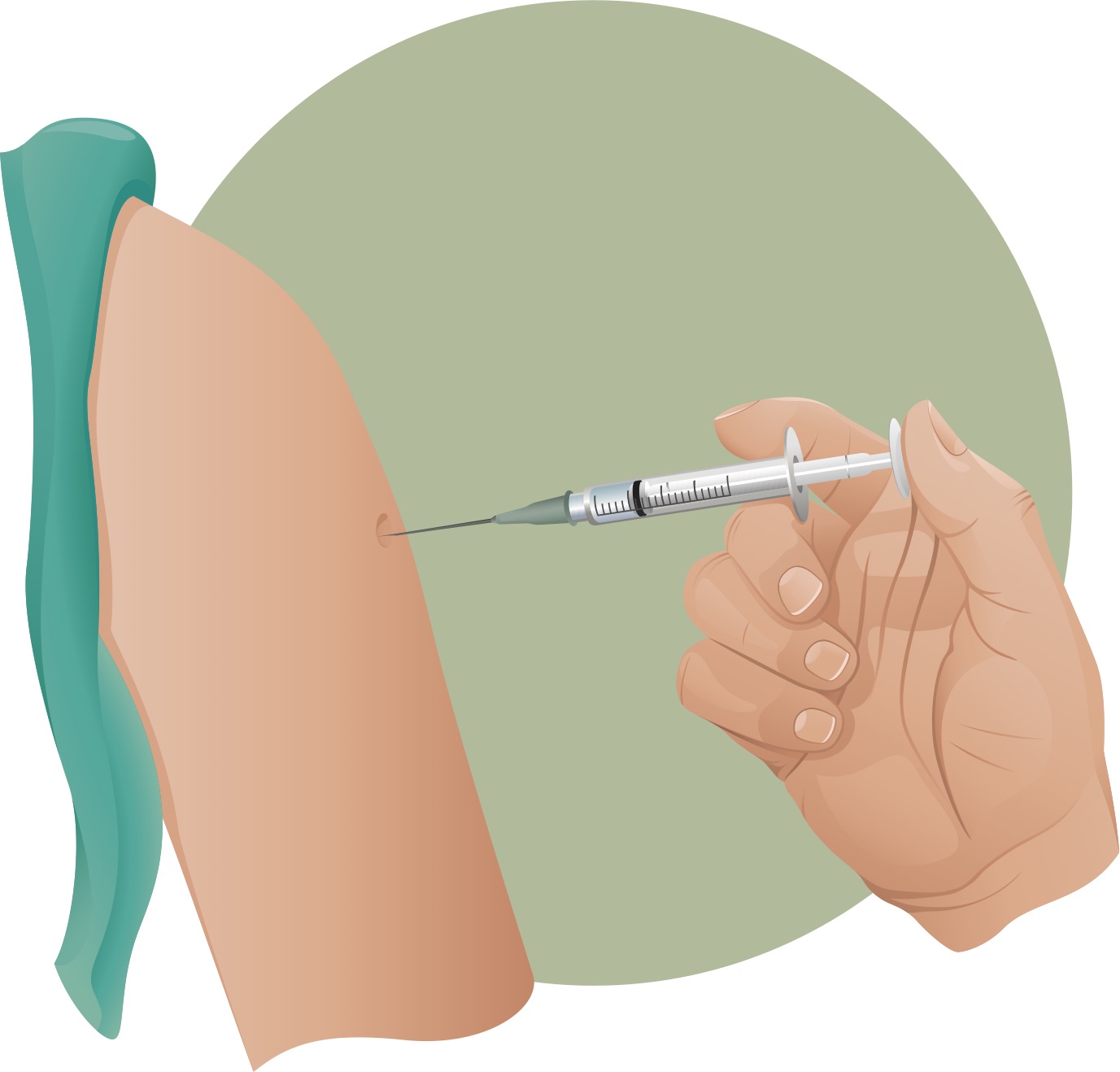 Drug and biological product administration via intramuscular injections using hypodermic needles has been a common medical practice for several centuries and is not going anywhere soon—from vaccines, antibiotics and insulin to an experimental injectable male contraceptive in development.1 The main issue with intramuscular injections is that if the hypodermic needle containing the drug or biological is injected incorrectly into a muscle or another part of the body, it could cause serious harm.
Hitting the Sweet Spot
Once administered exclusively by physicians, nurses began to take on the duties of giving intramuscular injections starting in the 1960s as children were being injected with an increasing number of vaccines. Normally, injection sites are focused on muscle areas and, depending on the formulation, the drug or biological is then absorbed into the bloodstream quickly or gradually.
Doctors and nurses administer vaccines in four different muscular areas: deltoid muscle of the arm, vastus lateralis muscle of the thigh, ventrogluteal muscle of the hip and the dorsogluteal muscle of the buttocks.2 And while it does depend on the agent injected, specific injection sites can decrease the risk of injection-related injuries. The first rule of thumb is that shorter, higher gauge needles minimize complications.
Secondly, guidelines recommend administering shots in the upper outer quadrant of a person's buttocks: the ventrogluteal muscle of the hip. It provides the greatest thickness of the gluteal muscle and is free of penetrating nerves and blood vessels. It also has a narrower layer of fat.
The dorsogluteal muscle of the buttocks, on the other hand, is linked with a higher risk of sciatic nerve injury (lower back, hip, back of leg). The deltoid site is commonly used in outpatient settings, however there is a need for caution because of the close proximity of the bone, radial nerve and brachial (shoulder to elbow) artery.3
Nerve Damage Resulting From Gluteal Intramuscular Injections
Intramuscular injections resulting in nerve damage are fairly common, especially in children. According to a 2000 retrospective study, 86.2 percent of study subjects experienced gluteal sciatic nerve injuries caused by intramuscular injection.4
A review of claims in New Zealand's Accident Compensation Coorporatoin between 2005 and 2008 reveals that eight claims were for sciatic nerve injury as a result of intramuscular injection. A literature review in the same study identified 17 reports of 1506 patients—most of which were children—with sciatic nerve injury from intramuscular injections.5
A 2006 case study presented a 25-year-old-male who developed a painful, swollen left leg after several left gluteal intramuscular injections (for indications and drugs unknown). Further analysis revealed marked muscle wasting consistent with a partial sciatic nerve injury.6
Nurses Commonly Using Wrong Injection Site
Despite recommendations for using the ventrogluteal (hip) site, there are discrepancies within nursing textbooks and very few nurses choose the safest injection site. According to a 2007 survey among registered nurses from outpatient settings, 99 percent reported using the dorsogluteal (buttocks) site versus 9 percent using the ventrogluteal site.7
A larger 2011 Canadian study showed similar findings. While 71 percent of hospital nurses most often gave intramuscular injections in the dorsogluteal site, only 14 percent used the ventrogluteal site.
Further, more than one in four nurses using the dorsogluteal site were unaware of the potential nerve damage risk linked with that spot. However, 74 percent of the nurses using the dorsogluteal site reported nerve injury as a complication in their patients. Only 15 percent of the nurses based their decision on nursing literature recommendations; 85 percent said their comfort level influenced their site selection.
The findings also revealed that younger, newer nurses (aged 20-24 years) were significantly more likely to follow the site injection recommendations as compared with their older, experienced colleagues (aged 40 years or older). All the respondents had been working in the nursing field for more than 10 years.8 9
No injection site may be without hazard, but the data indicate there is an unused best practice. "The implications for nurses include the need to learn and practice safe injection technique," the researchers wrote. "Proper training and an anatomical understanding of the sciatic nerve course are essential."10
---
References:
1 Behre HM, Zitzmann RA, Anderson DJ, et al. Efficacy and Safety of an Injectable Combination Hormonal Contraceptive for Men. The Journal of Clinical Endocrinology & Metabolism Oct. 27, 2016.
2 Cafasso J. What Are Intramuscular Injections? Healthline Oct. 5, 2015.
3 Omoigui S, Ogbechie C and Fadare A. Reinventing IM and Procedural Injections: The Sota Omoigui Short Needle Technique. Practical Pain Management Feb. 9, 2016.
4 Huang Y, Yan Q, and Lei W. Gluteal sciatic nerve injury and its treatment. Chinese Journal of Reparative and Reconstructive Surgery 2000;14:83-86
5 Mishra P and Stringer MD. Sciatic nerve injury from intramuscular injection: a persistent and global problem. International Journal of Clinical Practice July 27, 2010.
6 Ramtahal J, Ramlakham S and Singh K. Sciatic nerve injury following intramuscular injection: a case report and review of the literature. Journal of Neuroscience Nursing 2006;38:238-40.
7 Floyd S and Meyer A. Intramuscular injections—What's best practice? Kai Tiaki Nursing New Zealand 2007;13:20-22.
8 Walsh L and Brophy K. Staff nurses' sites of choice for administering intramuscular injections to adult patients in the acute care setting. Journal of Advance Nursing 2011;67:1034-40.
9 Wiley-Blackwell. Most nurses don't use recommended intramuscular injection site despite potential risks, study finds. Science Daily May 9, 2011.
10 See Footnote 6.